Building a team
for business growth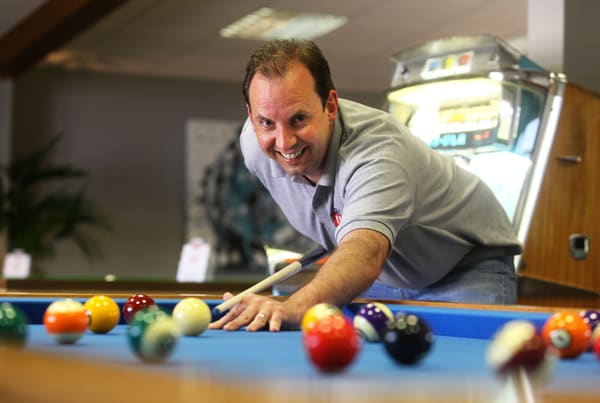 About our Client
Andy Beresford is the owner of Home Leisure Direct, which is the UK's largest games room retailer selling products such as pool tables, table tennis tables, pinball machines and jukeboxes.
After running the business for a year Andy decided he needed to look for a way to effectively manage the HR function of their business.
With the business expanding, Andy was struggling to cope with the management of human resources. Andy made the decision to outsource his HR to The HR Dept.
Our Solution
The HR Dept supported Andy with his expansion by helping him to recruit the best people for his company. As he had ambitious growth plans, he needed to be sure that when issues arose, there was help at hand.
The HR Dept provided the following HR services to Andy's company:
Resource planning
Job descriptions
Candidate selection
Interviews
Contracts
Company handbook
Insured Advice Line service
"When you are busy running a business that runs at the pace of ours you don't really have the time to be reading up online on what you should do for this and should do for that to keep up with HR legislation that continually changes, it's just impossible to do."
The Outcome
The HR Dept have been able to support the growth of Home Leisure Direct from 4 to 31 staff.
"I don't think any business can run employing staff and do it all properly without professional back up, you are going to make a mistake or do something wrong that could end up causing you a lot of pain and if you ended up in tribunal as a result could have catastrophic financial effect.
The HR Dept stood out as covering everything we wanted, it's like having your own HR Dept within your own small business. I feel reassured and excited to see what the future may bring as I know I have The HR Dept to assist me with the decisions that need to be made." Looking for expert HR support?
We can help you focus on your business by taking care of all your human resources needs.

Let us know how we can help or ask about our free initial HR review.
Preventing People Problems
Subscribe to our monthly newsletter
Office Address: CENTRAL OFFICE, The HR Dept International. Ltd, First Floor, 3 Brook Office Park, Emersons Green, Bristol, BS16 7FL | VAT Number: 280296590 | Registration Number: 10060441
Copyright © 2007 - 2022 The HR Dept Ltd. HR DEPT is a registered trademark belonging to The HR Dept Limited.