'Bogus' contracts
The big boys like Uber might steal the headlines when it comes to issues surrounding false self-employment. But it's something that every employer should pay attention to in Ireland. Because new legislation may soon be passed that clamps down on this practice.
False self-employment has spread far and wide. It is not just an Irish problem. Technology has made it easier than ever to blur the lines of employment in all developed economies. But what's dressed up as flexibility for both workers and businesses, can all too easily become a stripping down of workers' rights and a loss in tax revenue for the nation's coffers.
Government has had enough. There are actually two private member's bills going the Seanad at present. The latest one – called the Prohibition of Bogus Self-Employment Bill 2018 – follows hot on the tail of the Protection of Employment (Measures to Counter False Self-Employment) Bill 2018. The parliamentary intention is clear whichever form the legislation is passed in.
The current drafting of the latter bill would rewrite the definition of an employee to include people who work under the guise of a bogus contract of services. It would also allow for redress to the worker that could include financial compensation and proper classification as an employee. Moreover, it provides for the government to claim lost payments such as tax revenue. If you are deemed to be in violation, it could get costly.
We understand that some businesses and individuals will seek flexible working practices, and there should be a place for genuine arrangements. However, when such contracts are bogus and exist just to erode workers' rights or circumvent tax payments, this is wrong. Particularly when the workers are vulnerable for one reason or another.
We would advise all businesses to review their contracts for workers who cannot be clearly defined as an employee or a contractor. The HR Dept can provide advice on how best to classify your staff. We'll help you gain as much flexibility as possible whilst not falling foul of the new legislation that's on the horizon.
---
Tackling the gender pay gap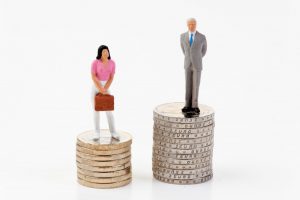 The gender pay gap in Ireland stands at 13.9%. While this compares favourably to the average across the EU of 16.7%, it's still a blight on the economy and needs to be tackled. At a macro level, it has a huge impact. In the UK, a CIPD study found that the gender pay gap there costs the economy up to 2% of GDP. Irish figures aren't available.
Companies which close the gender pay gap gain numerous advantages.
These can include, higher earnings, improved recruitment and retention, and better decision-making from a gender-diverse leadership. And it's a PR story truly worth shouting about.
There are calls for the government to do more about closing the gender pay gap. But it is also something that any business can address. And by doing it early, you can gain a competitive advantage. We can help you take action, so give us a call.
---
The danger of wearing high heels at work
Having high standards is one thing, expecting your employees to totter around in high heels is something entirely different. It's an issue that hit the headlines last year when a receptionist was sent home from work for not wearing heels.
After challenging the decision, an inquiry threw the spotlight on the unfair demands placed on some women at work. Although there is protection against sex discrimination, no men we know have been asked to wear heels, many still feel pressure to look a certain way – with 76% unsure what's appropriate.
But it's not just about looks. Asking your employees to wear heels may have serious health implications. It alters the centre of gravity, putting pressure on the spine, heart and lungs – probably not something you want to be responsible for! For advice on dress codes, talk to The HR Dept.
---
Paternity leave 18 months on

More than 23,000 people have taken up their right to paternity leave since it was introduced in September 2016.
With this, the father receives two weeks of statutory paternity leave, to be taken within six months of a birth or adoption placement. The provision also extends to a spouse, civil partner, cohabitant of the child's mother or a parent of a donor-conceived child. They may also receive two week's statutory paternity benefit if their PRSI contributions meet the qualifying criteria.
That is what's statutory, but companies are also free to top up this payment, and many do. In fact, according to a CIPD survey, 42% of companies said they top up the statutory payment. Of course, it's dependent on the finances of your business. But it can be a creative way to differentiate yourself as an employer to make you stand out – both to existing and potential staff.
However you decide to approach paternity leave it's wise to have a written policy. This should include your own internal application procedures, how they comply with the legislation, who can apply and what the timescales are.
If you do top up the statutory paternity benefit, align any conditions with your maternity leave policy. This will help you to avoid accusations of discrimination in how paternity leave is taken.
Maternity and paternity provision will affect most businesses at some point and raise a number of issues. We can advise you in this area to help you stay compliant, manage your staff effectively and, if you want, to craft proactive policies. Call us for more information.
---
Covert surveillance at work was illegal
GDPR isn't the only personal privacy story for SMEs in 2018, as a recent case in Spain has shown. A supermarket suspected that employees were stealing. They used visible and covert CCTV cameras to tackle the theft. The covert evidence collected led to dismissals.
The employees took them to a Spanish court claiming their privacy had been breached, but lost. However, the case progressed to the European Court of Human Rights which reversed the decision, saying a fair balance had not been struck.
In Ireland, the Irish Office of the Data Protection Commissioner provides strict guidelines for CCTV usage. These don't leave much room for covert operations by an employer. If you consider it necessary to covertly film employees, speak to The HR Dept first. We can advise you on the legality of such a move or, if appropriate, find another solution.
---
Union pay expectations unrealistic
Are you planning on giving employees a cost of living pay rise this year? If so, you may be thinking around 2% – that's the median forecasted pay rise for the three-quarters of firms who said they're planning one in 2018.
Be warned though, that employee expectations may be higher. This is, in part, because the Irish Congress of Trade Unions is recommending increases of 3.1%. With productivity among Irish exporters already lagging wage growth, other rising costs to business, and uncertainty over Brexit, such a rise has been branded as wildly unrealistic by the Irish Businesses and Employers Confederation.
---