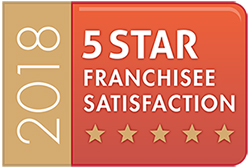 The HR Dept is delighted to announce that we have been awarded the 5 Star Franchisee Satisfaction Badge in the WorkBuzz annual Franchisee Satisfaction survey. It is a tremendous recognition to receive a five-star rating. In 2018 we reached out to our licensees to hear about their experience with us. Here is what we discovered.
The franchise satisfaction benchmark, provided by WorkBuzz, surveys franchisees on their experience at The HR Dept covering a range of areas including support, training, marketing, branding and much more. The survey offers a platform for our licensees to anonymously voice their feedback to help us benchmark the support and training we offer. This has enabled us to strengthen and develop the assistance we provide our network as we hear their honest thoughts, opinions and ideas. All-together this pushes us towards our plan to develop a successful future for the network.
The HR Dept network consists of over 70 licensees worldwide who built successful businesses within their territory by following our proven business model.