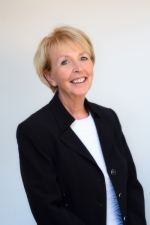 HR Dept's founder and executive director Sue Tumelty is one of three women to be included in Business Leader's Top 50 Entrepreneurs of the South West.
Ranking alongside Dragon Den's Deborah Meaden and recruitment giant Helen Lacey, Sue's placement is an amazing achievement and a testament to the power of the leading HR franchise.
With strong feminist roots, the HR Dept colours are the colours of the suffragettes (green and purple), the fact 47 of 50 of the region's top entrepreneurs shows more needs to be done to encourage women into business and starting their own businesses.
How it all started
Sue started the HR Dept in Bristol in 2002, after working in interim roles at blue-chip companies. She spotted a gap in the market to provide HR services to smaller firms at an affordable price, and the company took off.
Soon enquiries from across the country were flooding in, but Sue wanted to make sure the key strength of a local and personal HR service was not lost. Instead of hiring associates, Sue developed a franchise network of experienced HR professionals across the country.
From an initial trial in Manchester in 2004, over 70 franchisees now operate 100 territories in the UK, Ireland and most recently Australia!
Learning to lip read
Sue's story is even more remarkable because she's been profoundly deaf for 25 years. Her daughters Gemma, now the managing director of the HR Dept and Jodie, a primary school teacher suggested seeing a specialist.
"I was given an analogue NHS hearing aid, which picked up a lot of background noise. I was a single parent, so couldn't afford to buy a better one, so my lip-reading and body language-reading skills became much enhanced."
Being deaf hasn't been an obstacle, Sue believes: "I don't think of myself as disabled. Yes, it can be difficult sometimes. I now work in the office at home more because it's quieter, so I can hear better on the phone and people don't have to keep walking over to my desk to ask me a question."
Outsourcing Knowledge
Sue's top tip for business is: "Read as much reliable information as you can and seek dependable advice where you lack knowledge"
The HR and employment law advice we give has always been based on a pragmatic approach, telling businesses what they can do, not what they can't.